Las Vegas' kid-friendly hotels are about as numerous as the wonderful sights that await you in this upbeat city. Parents have loads of hotel options in the city: luxurious European style comfort, moderately priced city escapes and bargain-based hotels with all the necessary amenities to make your children feel comfortable.
1. Mandarin Oriental
The Mandarin Oriental is a 47-story hotel tower located on the famed Las Vegas Strip and surrounded by the City Center development which includes Aria and Vdara hotels. Mandarin Oriental provides all children a special gift upon checking in as well as children's sized bathrobes. Cribs, strollers, bath toys, Playstation game consoles, and DVDs are all available to younger guests too. The hotel provides babysitting services with 24-hours notice.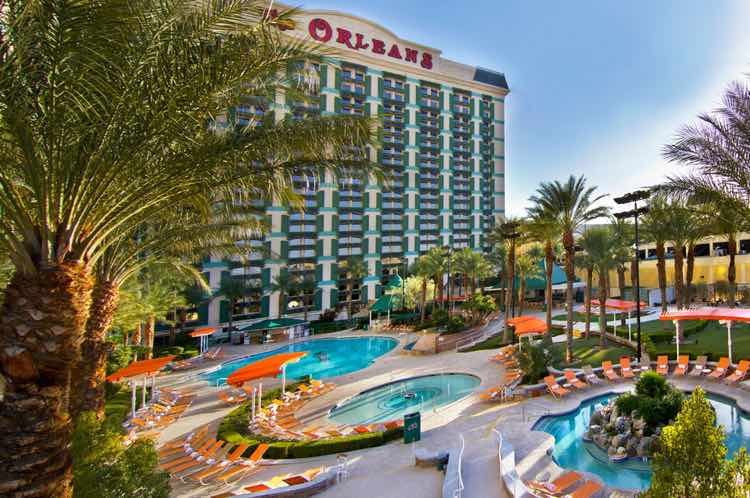 Few hotels offer as much diversion as
The Orleans Hotel and Casino
.
Kid's Tyme Child Care
is perfect for families with toddlers (3 through 12) while children and teens will delight in the hotels 70 lane bowling center 18-plex Movie theater and arcade. Buzz'N Brushes is an entertaining experience whereby the entire family can learn the basics of acrylic painting while enjoying music, beverages and entertainment. The Orleans hotel is located off the Las Vegas Strip but offers a complimentary shuttle.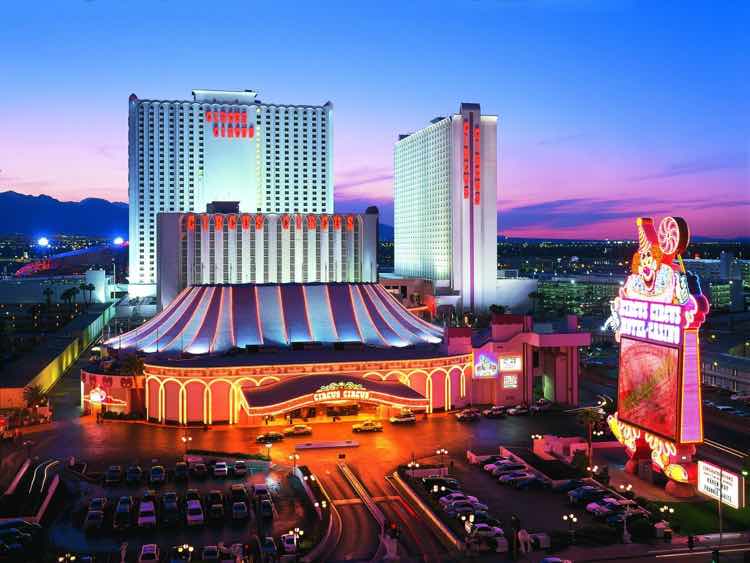 If you and your children love the excitement of the Big Top, you'll love the this hotel. This themed hotel offers guests of all ages an opportunity to enjoy an all-around vacation under one roof. The downside: this hotel is overdue for renovation.
Circus-Circus
has all the requirements of a kid-friendly hotel but falls a bit short in quality and can be a bit overly seedy at times. However, a visit to Circus-Circus is a must, the kids will love the Midway fun-fare, the
Adventuredome
, mini golf and the Circus shows.
4. Vdara Hotel and Spa
Vdara Hotel and Spa is located within the City Center Complex between the Aria Hotel and the Bellagio Hotel and is one of a few non-gaming,
non-smoking hotels in Las Vegas
.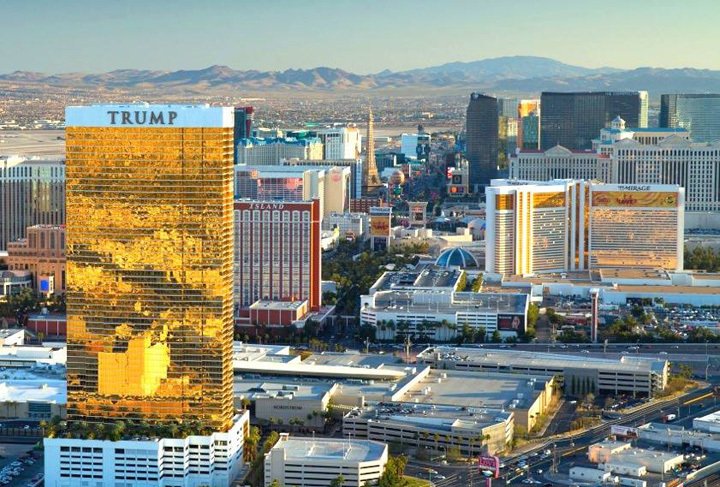 Kids: You're Hired! Trump Hotel Las Vegas is a short walk from the Strip but its amenities make it a great prospect for families. It's location across the street from the Fashion Show Mall is ideal those shopper in your party and parents will love that it's down the street from the Wynn Hotel. The Trump Kids program is offered to all children at check in and features kiddie cocktails, coloring books, no-tear bath ammenities, board games, children's DVD and an in-room children's movie channel.
The Four Seasons Las Vegas provides parents with peace of mind when it comes to accommodating families. The hotel offers a full hotel room childproofing service, cribs, rollaways, board games, a children's DVD library, and non-smoking rooms.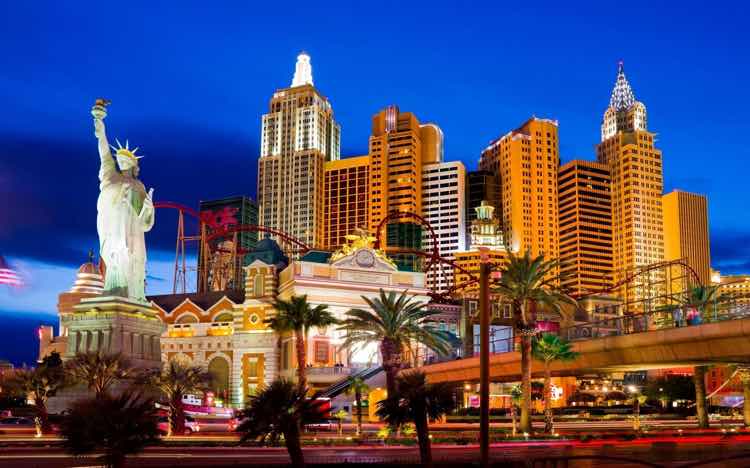 New York New York is like a visit to the Big Apple without the long flight. This hotel recreates the skyline of New York with twelve connecting hotel towers. Kids will love the Manhattan Express rollercoaster and the full arcade located just above the casino floor.
Hershey's Chocolate World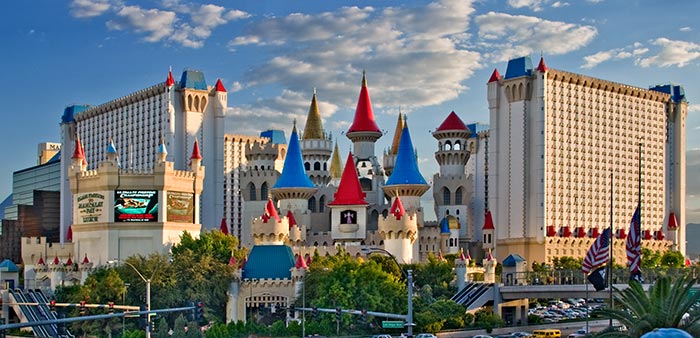 Excalibur Hotel and Casino is an experience of Camelot right on the Las Vegas Strip. The moment you enter this hotel you and your family will be transported into the long-ago world of King Arthur. Kids will love the many things do to including a full arcade and midway center while moms and dads can still enjoy a real Las Vegas experience.
9. Luxor Hotel
What child wouldn't love a trip to ancient Egypt? The Luxor hotel is world's largest pyramid and playground. The hotel provide children with endless opportunities for entertainment with the Artifact Exhibition, Bodies The Exhibition, Titanic: The Artifact Exhibition, a swimming pool, arcade, food court and more.
Child-friendly exhibitions
10. Linq Hotel
Located in the center of the Las Vegas Strip is a hip hotel modelled in with a high tech feel. The Hign Roller ferris wheel is the world's tallest observation wheel measuring 520 feet--taller than the London Eye and Singapore Flyer. Fancy bowling? Brooklyn Bowl features 32 bowling lanes and is 78,000 square feet of fun. Shop for some limited edition sneakers at 12A.M. Run. The Linq hotel also offer The Auto Collections: includes rare antique cars. Jeff Civillico: Comedy in Action blends jokes, stunts and juggling and was recently named "Best Family Attraction" by the Las Vegas Review Journal.
Cosmopolitan Hotel Las Vegas is the ideal hotel for families wanting lots of near-by activities. Located next door to many popular Las Vegas hotels, the Cosmopolitan is within walking proximity to the Fountains at the Bellagio, City Center, New York New York and other hotels.
The Green Valley Ranch Hotel is a fabulous, luxury hotel located in Henderson Nevada, just ten minutes from McCarran International Airport and the Las Vegas Strip. It sports a multiplex cinema, beach pool, full service spa with private pool, a full arcade and over-sized hotel rooms. Within a short walking distance from the hotel is The District, an outdoor pedestrian shopping mall featuring dozens of shops as well as Whole Food market.
An old Las Vegas favorite and the first Strip hotel by Vegas magnate Steve Wynn, the Mirage hotel offers a whole lot of what families want! A free evening errupting volcano show, a bottle nose dolphin habitat and show and a white lion display.
14. Mandalay Bay
Reminiscent of the Hotel California tune by the Eagles: the Mandalay Bay is a hotel you just won't want to check out of. With a beach, a lazy river, the Shark Reef aquarium, and so much more fun, your kids will find it difficult to pack their suit case.
15. Renaissance Las Vegas Hotel
Renaissance Las Vegas is a smoke-free and gaming-free hotel located just off the Las Vegas Strip. Located within walking distance from all the fun this hotel provides families with a great non-gaming and non-smoking alternative.
Planet Hollywood Hotel Las Vegas is a museum of Hollywood paraphernalia and a shopper's paradise. This hotel's central location makes it ideal for families with babies and other short-legged little creatures! Located midway on the Vegas Strip, the Planet Hollywood boasts convenience and luxury. The hotel features gourmet restaurants, world-class shopping at Desert Passage and great entertainment. The Planet Hollywood offers 2,600 rooms each features a marble bathroom with private tub and a separate shower. Hotel rooms offer two phone lines, high-speed Internet access, a cordless phone and other amenities. Once you get to the Planet Hollywood, you will be able to enjoy two rooftop swimming pools. The best part of all is the private areas, such as rooms and swimming pool, are accessible directly from the hotel lobby so you don't have to pass through the casino.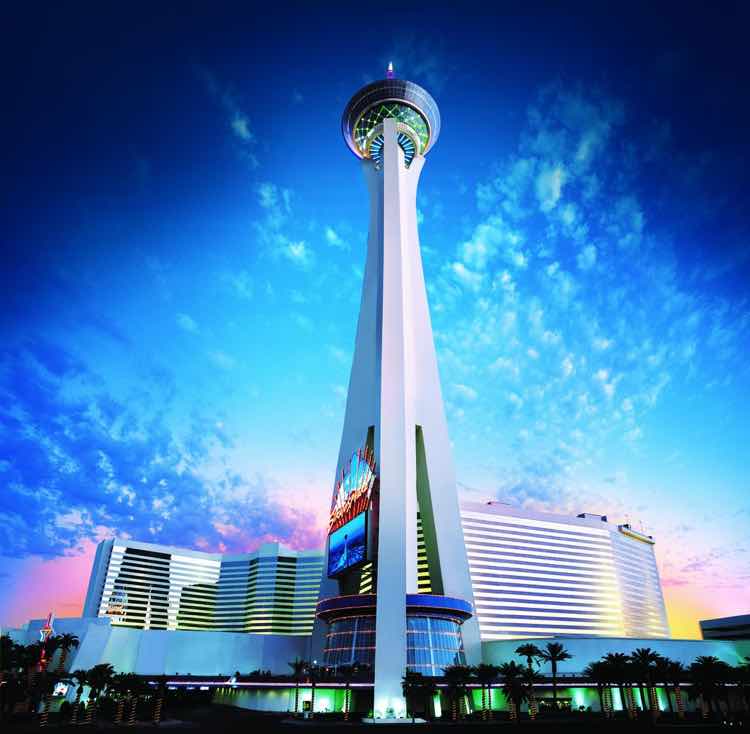 Few activities are more entertaining than rollercoasters and rides 1,149 feet in the air! You can almost touch the sky at Stratosphere Hotel in Las Vegas. Located at the north side of The Strip this hotel is packed with fun for families, though a long walk to the other attractions in Las Vegas.
18. The Wynn
Ferrari Anyone? The Wynn is the only hotel in the world where you'll find a Ferrari dealership and a three acre lake--on the hotel property! You and your child will marvel at original works by Rembrandt, Renoir, Monet and Picasso that are showcased throughout the hotel. The Wynn: great to visit with kids, not ideal to stay in.
Located on the famed four corners of the Las Vegas Strip, the MGM Grand is a Vegas landmark. Kids 12 and over will enjoy CSI-The Experience, an iteractive problem solving experience. Unfortunately the Lion Habitat attraction has closed but the MGM Grand is across the street from the New York New York hotel making it an excellent locaiton for families.
20. Venetian Hotel
The Venetian is a grand hotel offering a wonderful experience to all. This massive hotel boasts an extensive shopping mall as well as the Madame Tussauds was museum and Gondola Rides. While the Venetian is a perfectly acceptable hotel for families, it is primarily designed for adult guests.
21. Bellagio Hotel
If 5-star Las Vegas accommodations are what you seek look no further than the elegance of Bellagio. Offering a full Las Vegas experience in a luxurious setting, the Bellagio has it all from a spectacular Conservatory where fresh flowers and trees are manicured to perfection to a dazzling fountain show and Cirque du Soleil show called "O".
Paris Las Vegas is modeled after the Hotel de Ville in Paris, France. This elegant hotel boasts 2,916 rooms and 295 suites. Rise 46 stories above the Las Vegas Strip and enjoy amzing views on the Eiffel Tower Experience ride, good for the entire family.
Caesars Palace, the jewel of the empire, is certainly one of the most opulent hotels in Las Vegas but sadly it lacks in chidlren's ammenties and entertainment. A four acre Garden of the Gods Pool is available to registered hotel guests. An "Atlantis" show is located in the Forum Shops. Caesars is great to visit and tour with children but not ideal to stay in over night.
24. The Palms
The Palms Casino Resort was a wonderful hotel chalk full of amazing ammenties for familes though regretfully these ammenities have been closed making The Palms a virtually adult-only hotel.
25. Hard Rock Hotel
The Hard Rock hotel features a wonderful pool and outstanding room quality but families should think twice before booking a stay here. The public areas are mostly in and around the casino which normally become crowded and roudy with beverage enjoying young adults. This hotel is not recommeded for families.
26. Harrah's
While Harrah's is situated in an ideal part of the Las Vegas Strip and offering access to many outstanding hotels and familiy attractions, it is a bit outdated and in need of renovation. It offers few if any ammenities for children or teens.