On a budget? Or simply cheap (like us)? Las Vegas offers plenty of ways to entertain yourself free of charge. This list of free (and cheap) things to do in Las Vegas such as attractions, shows, hotels and more is a way great for visitors to save during a Las Vegas vacation.
Step under the big top with the world's largest permanent circus! Starting daily at 11am, the shows feature a wide range of performers from all across the globe, right at the center stage of Carnival Midway. See Katerina show off her dazzling hula hoop skills all the way from Russia, be dazzled by Argentinian trapeze artist Noelia, watch in awe of the Cherifian Acrobatic Troupe from Morocco, enjoy the resident Circus Circus clowns, and so much more!
Where: Circus-Circus
Ages: All
Just off the Las Vegas Strip is the Fremont Street Experience and it's one-of-a-kind Light and Sound show consisting of 2.1 million lights on a space frame towering 90 feet above a four-block section of town! While there don't miss the street artists and vendors.
Where: Fremont Street Experience
Ages: All ages
It's Vegas and thus, it's hot! One of the best options for cooling down from the desert heat is to visit the Children's Park and Playground at the popular outdoor Town Square Shopping Mall. With a number of play areas that are either in shade, in trees, or in a fountain, your kids will have fun and stay cool.
Where: Town Square
Ages: Children 10 and under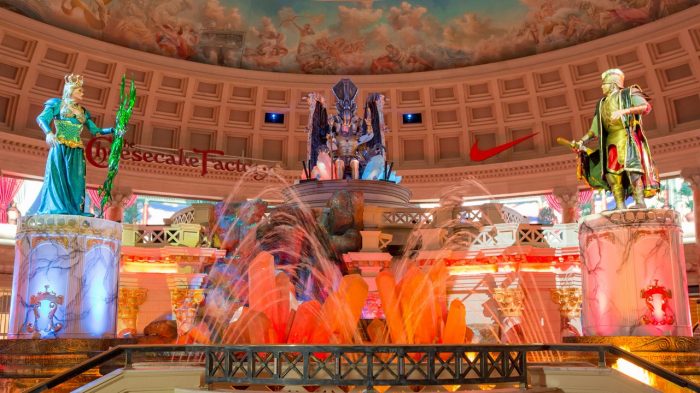 This modern take on the legendary city's demise is an attraction within an attraction, as myth takes center stage at the heart of the Forum Shops at Caesar's Palace. Complete with animatronics, fire, and special effects galore, it's a little silly, a little over the top, and a lot of fun! The show starts every hour on the hour, so you can easily plan a break from shopping and go check it out.
In addition, there's also a free aquarium! The 50,000-gallon tank houses over 300 beautiful stingrays and tropical fish. Behind-the-scenes aquarium tours are a
Where: Caesar's Palace
Ages: All
The Container Park, located Downtown, is an open-air shopping center built from repurposed shipping containers. Located just a few blocks away from the Fremont Street Experience, this open-air shopping center filled with boutique retail shops, restaurants, and live entertainment...as well as one of the best kid's parks in Vegas.
Where: Container Park
Ages: Children 10 and under
Photo by Tim Wright
This Italian-inspired shopping center opts for authenticity at every turn; In the grand tradition of street performers worldwide, the cobbled streets of the Venetian's Grand Canal Shoppes come alive with around 30 small performances every day. Living statues intrigue and delight, the Artiste del Arte musicians sing to shoppers, and troupes of classically trained performers from all over the world bring the best of the Old World right to Las Vegas.
Where: Grand Canal Shoppes at Venetian
Ages: All
This is a real treat for the senses any time of the year. Get ready for topiaries like you've never seen, spectacular floral design, and unrivaled attention to detail. The Bellagio's horticulture team transforms all 14,000 square feet of botanical garden into a lush, stunning landscape to suit the current season. Spring, summer, fall, and winter are all beautifully portrayed throughout the year, as is the annual Chinese New Year celebration.
Where: Bellagio
Ages: All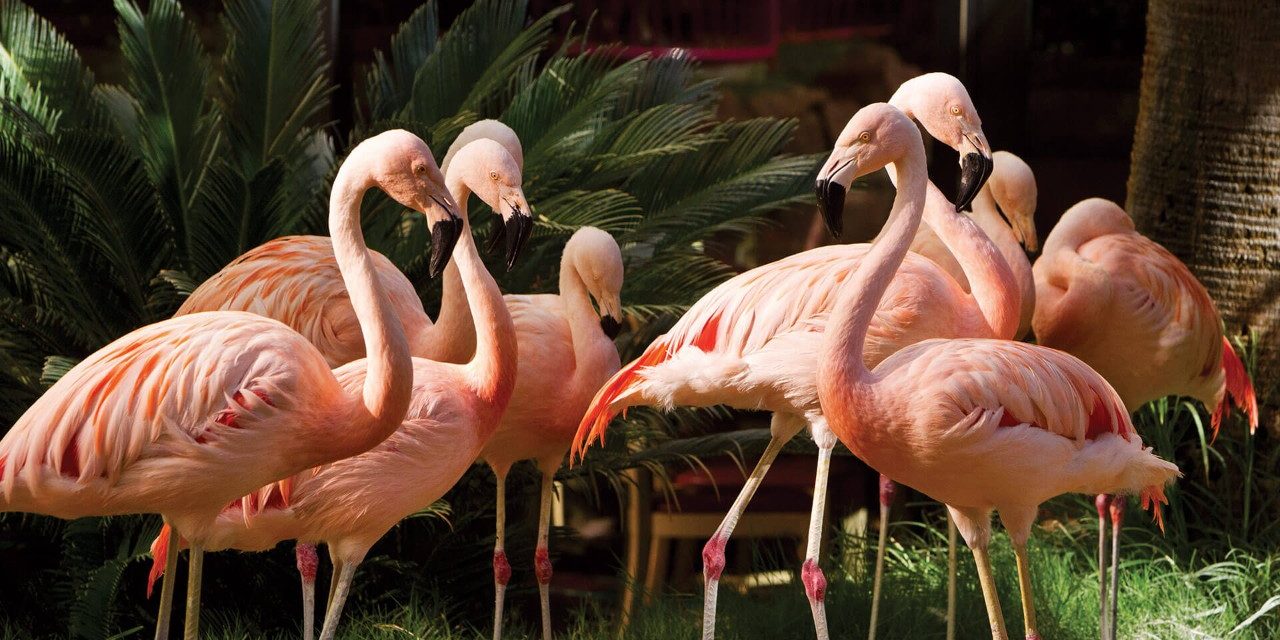 Fun fact: the collective noun for a group of flamingos is a flamboyance! There's no better place for flamboyance than right at the Flamingo: this isn't a zoo, rather, it's a habitat! In addition to the resident flamingos, the 15-acre grounds are home to ducks, swans, fish, ibis, turtles, parrots, hummingbirds, and more. Designed to be a tropical paradise, this serene refuge from the hustle and bustle of the Strip is chock full of photo opportunities and a chance to see a neat section of nature up close.
Where: Flamingo
Ages: All
If you tell your kids that every night a volcano erupts with fire, smoke, and lava right in front of their hotel, they won't believe you until they see it for themselves. Head outside the main entrance Sunday-Thursday evening just before 7 p.m. or 8 p.m. or Friday or Saturday just before 7 p.m., 8 p.m., or 9 p.m. Those the times when, whether permitting, you can see this incredible man-made spectacle during the winter. The times are an hour later during the warmer months. The volcano used to erupt every half hour from dusk to midnight, but as of July, 2015, the hotel cut back the viewing times to save costs. Sadly, this is just one example of the growing trend of Las Vegas casino hotels to cut down on free entertainment. The free tram between the Mirage and Treasure Island still exists, but the free pirate show that used to draw big crowds of all ages to the TI nightly is now a part of Las Vegas history.
Where: Mirage
Ages: All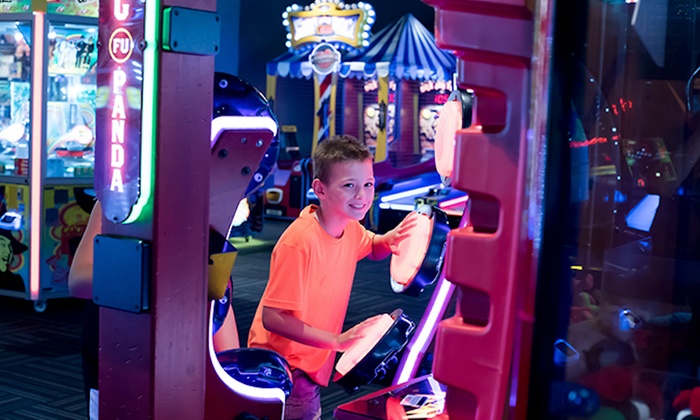 GameWorks is a state-of-the-art arcade with more than 200 games organized into several themed attraction areas that's attracting droves of tourists, both young and old! Try your hand at new games like Dance Revolution and Indy 500, or reminisce with old favorites such as PacMan, Centipede, and Asteroids. There's also a carnival-style ?Big Win Zone? where visitors can collect tickets for winning and redeem them for great prizes.
Where: Town Square
Ages: All ages
11. Ghirardelli at Linq Promenade
Chocoholics won't want to miss this one-stop shop for everything an ice cream and chocolate lover could want. Enjoy a signature Hot Fudge Sundae with fresh house-made hot fudge or branch out into any of the other delicious treats on the menu. Conveniently located on the LINQ Promenade right across Brooklyn Bowl's entrance, Ghirardelli Ice Cream and Chocolate Shop won the Best of Las Vegas 2015 award for Best Ice Cream. Chocolate candy is also available for purchase along with wrapped gifts and mementos.
Where: Linq Promenade
Ages: All ages
12. Castle Walk Shops
If you and your kids are ready for some retail therapy, look no further than the shopping mecca that is Castle Walk Shops. Located at the Excalibur, you'll experience shops, midway style games, rides, as well as gifts and collectibles at unique and distinctive shops. No trip to Las Vegas is completely without a little souvenir or twenty. Kids will love the stores that cater to them, specifically: Dragon's Lair, Kids of the Kingdom and Lick, the ultimate candy shop.
Where: Excalibur
Ages: All ages
One of the newer additions to the Strip, Hershey's Chocolate World is located inside the New York New York Hotel. Based on the aroma that wafts over you as soon as you enter, you might think they're pumping chocolate flavored oxygen into the store! You'll encounter hundreds of pounds of chocolate in varying shapes, sizes and packaging. Not to mention the candy themed apparel, jewelry as well as chocolate clones of your children? ok, maybe there aren't chocolate clones of your children, but that would be nice some days, no??
Where: New York - New York
Ages: All ages
14. Rainstorm in the Desert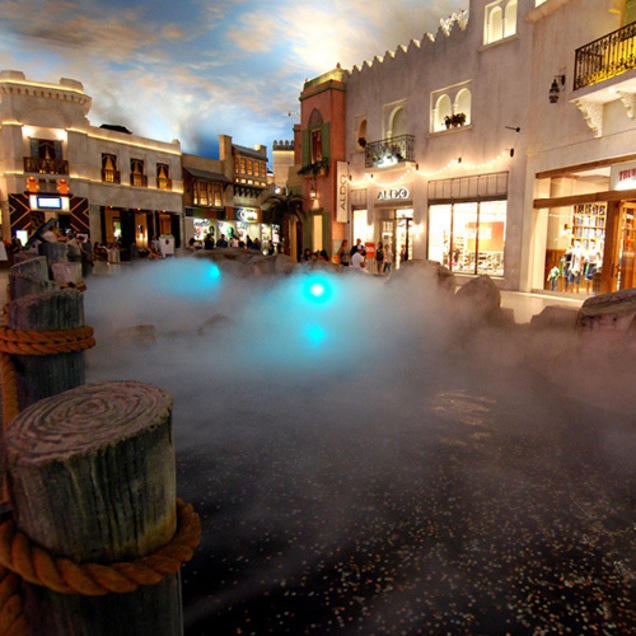 Anyone interested in an indoor rainstorm? Only in Las Vegas can it rain and thunder indoors! This 'show' features thunder, lightning, fog and pouring rain. Watch with your children at the top of the hour Mondays, Thursdays, and every half hour on the weekends including Fridays. Conveniently located next to a Panda Express and Ben & Jerry's shop.
Where: Planet Hollywood Miracle Mile Shops
Ages: All ages
15. Streetmosphere at Grand Canal Shoppes
Streetmosphere is free outdoor entertainment at its finest. Bring the whole family to see classically trained singers, musicians, and actors from all over the world perform at St. Mark's Square without spending a dime. Living Statues amaze, perplex, and delight while the Artiste del Arte group provide the perfect soundtrack to the Grand Canal shopping experience. Approximately 30 small performances take place daily, so there's no need to rush or stick to an exact schedule. it's impossible to miss out at Streetmosphere.
Where: Streetmosphere at Grand Canal Shoppes
Ages: All ages
16. The Toy Shack
Tucked into a tiny corner in downtown Vegas, nestled at the end of Fremont Street near Denny's, is a hidden gem that will awaken the child inside all of us. From old X-Men figurines to Hot Wheels to Barbie Dolls and old Ghostbusters memorabilia, there's something for everyone here. In addition, there are old arcade games, a tall gum ball machine and rows and rows full of toys dating back decades. Prices will vary depending on the item being purchased and they are known to run high. However, a little bird told me that some prices are negotiable, so be prepared with a tear-jerker from your childhood and see how things turn out!
Where: Fremont Street
Ages: All ages
17. Carnaval Court
A self-described 'open air street party,' Carnaval Court is a great place to enjoy a festive atmosphere, play some blackjack, and take in a little fresh air. Who doesn't love dancing under the stars? Famous Las Vegas lounge acts like the Crashers and Whip Its can be seen alongside the hottest DJs in town. Although the fully-stocked bar and bottle-flipping bartenders designate this as an adults-only spot as the day goes on, kids can enjoy live music, souvenir kiosks, and a more family-friendly vibe in the afternoon before the party kicks into high gear.
Where: Harrah's
Ages: Adults
If you're looking for a show of natural beauty, synchronized to different music every day, and absolutely FREE, then look no further. The Fountains of Bellagio are themed and played alongside music from Michael Jackson, Elvis, the Beatles, and the latest electronica music from Tiesto. Exact performance times vary depending on the season and day of the week.
Where: Bellagio
Ages: All ages
Looking for over 40 retail shops, an assortment of mainstream and unique restaurants, and bowling to boot? Look no further than LINQ Promenade. This outdoor retail, dining and entertainment plaza is anchored by the High Roller Ferris and can keep kids and adults entertained for days. Shops at the LINQ Promenade include: Polaroid Fotobar, a stylish sneaker boutique, a hat shop featuring everything from berets and fedoras to newsboy caps. Club Tattoo, a world-famous tattoo studio, is a mainstay here and tempts even the most ambivalent customer! Brooklyn Bowl, the famous NYC hotspot, also commands a spot at LINQ Promenade, and gives you and your kids a chance to fuse bowling, live music and gourmet dining together.
Where: LINQ Promenade
Ages: All ages
20. Pinball Hall of Fame
The Pinball Hall of Fame is an attempt by the members of the Las Vegas Pinball Collectors Club to house and display the world's largest pinball collection, open to the public. A not-for-profit corporation was established to further this cause. The games belong to one club member (Tim Arnold), and range from 1950s up to 1990s pinball machines. Since it is a non-profit museum, older games from the 1960s, 1970s and 1980s are the prevelant, as this was the 'heyday' of pinball. There are no 'ticket spitters' here (aka kiddie casinos or redemption). It's all pure pinball (and a few arcade novelty games) from the past. And since it's a non-profit, excess revenues go to non-denominational charities.
Ages: All ages
21. Castle Walk Shops
If you and your kids are ready for some retail therapy, look no further than the shopping mecca that is Castle Walk Shops. Located at the Excalibur, you'll experience shops, midway style games, rides, as well as gifts and collectibles at unique and distinctive shops. No trip to Las Vegas is completely without a little souvenir or twenty. Kids will love the stores that cater to them, specifically: Dragon's Lair, Kids of the Kingdom and Lick, the ultimate candy shop.
Where: Excalibur Hotel and Casino
Ages: All ages
22. Mirage Aquarium
The Aquarium at the Mirage accommodates more than 1,000 coral-reef species from Australia, Hawaii, Tonga, Fiji, the Red Sea, the Marshall Islands, the Sea of Cortez and the Caribbean. These sea animals were all selected for their ability to adapt to the environment and compatibility with other species. Managed by The Mirage hotel's own in-house marine biologists, you'll be greeted by a 20,000-gallon saltwater aquarium stocked with angelfish, pufferfish, tangs and other exotic sea creatures - including three different kinds of sharks! One of the most elaborate and technically advanced aquariums in the world, the tank is 53 feet long, eight feet from top to bottom, and six feet from front to back. The interior was carefully created to simulate an intricately detailed, artificial coral reef. To preserve the living reefs in the ocean, no live coral is used in the tank.
Where: Mirage
Ages: All ages
Like most people, we're big fans of Whole Foods, especially for their food court! Choose from yummy pizzas, hand-rolled sushi, a hot salad bar and a variety of other prepared foods. The Town Square store marks the fourth and most central Whole Foods location in Las Vegas. It's a great location for visitors who need a break from the endless buffets. A visit to this Whole Foods might be the jackpot you've been waiting for. Here's something to note: Whole Foods is a great place to find vegan baked goods. A couple of favorites: Vegan Blueberry Donut and their Vegan Chocolate Chip Cookie = Delish! Store hours: 8:00 am to 10:00 pm daily.
Where: Whole Foods Market Town Square
Ages: All ages
Live out your NYC dreams in Las Vegas. New York-New York consists of 12 towers designed to replicate the beloved city's famous skyline, including the Chrysler Building and the Empire State Building. But one of the best attractions is The Brooklyn Bridge, this 300-foot-long rendition of the actual NYC bridge. With 9,000 square feet of space that can easily accommodate up to 400 guests, the Brooklyn Bridge is the perfect place to hold your very own reception, party, or other special venue. You can also find a great variety of entertainment events scheduled here each month, from bands to solo acts, including Michael Grimm and DJ Jace.
Where: Brooklyn Bridge at New York-New York
Ages: All ages
25. The Plaza
Another popular attraction at the New York-New York is the newly renovated outdoor plaza, which is anchored by the Brooklyn Bridge and features an eclectic variety of shops for all ages. Visit the Brooklyn Bridge at New York-New York and you'll be visiting NYC and Las Vegas at the same time!
Where: Brooklyn Bridge at New York-New York
Ages: All ages
26. Fun Dungeon at Excalibur
Games, games and more games abound at the Fun Dungeon. With the world's biggest Pacman, Air Hockey, 10 kiddie land games, 106 redemption games, 60 arcade games, 16 carnival midways, and 10 sports games, the Fun Dungeon is a non-stop treat for those with short attention spans, young and old! Everything is covered at the Fun Dungeon: Dairy Queen and Orange Julius are located right in the arcade. This arcade and game center is less expensive than the AdventureDome and less crowded. In short, Fun Dungeon is a fun stop for the youngsters, but also for your wallet and your inner kid. (Go Frogger!)
Where: Excalibur
Ages: All ages
27. CBS Television City Research Center
Have you ever wanted to tell a network executive exactly what you think about a new Television Show? Well now's your chance! With four different studios to choose from, including CBS, MTV, Nickelodeon and other Viacom networks, you'll be privy to the latest offering of TV shows, commercials, as well as websites and technology-based products. In the past, products such as Nintendo Wii, Xbox 360 and Apple iPhone have all been tested. The experience will last on hour, which includes a short survey following the program to tell executives your opinion. You'll also be given a chance to enter a drawing for a state-of-the-art home-theater system. Drawings are held every 3 months.
Where: MGM Grand
Ages: Ages 10+
28. Houdini's Magic Shop
Calling all aspiring magicians! The 'mecca of magic' has two convenient locations on the Las Vegas Strip, inside the Miracle Mile Shops and the Grand Canal Shoppes. Voted ?Best Novelty Shop? in 2016, this is the ultimate destination for one-of-a-kind collectibles, magic tricks, costumes and special effects makeup, and more! Magic lessons and instructional materials are available for those seeking to improve their craft.
Where: Miracle Mile Shops and the Grand Canal Shoppes
Ages: All ages
29. The Park
The Park is an immense outdoor destination for dining and entertainment. From retail shops to various eateries, to the Brooklyn Bridge, the Park is full of places to see and be seen. All of the venues are outfitted with outdoor patio seating, so you can be part of the action even as you rest. The Park is outfitted with various art installations and horticulture programs inspired by the Nevada desert landscape, creating a vibrant and unique ambiance unlike anything else on The Strip.
Where: Located between Monte Carlo & New York-New York
Ages: All ages
30. Aqua di Cristallo water sculpture
Samuel G. Bocchicchio's 'Acqua di Cristallo? is an evocative yet tranquil water sculpture that has transfixed visitor since its unveiling in 2008. Part fountain, part muse, all art, the piece actually occupies two levels! A trio of translucent carved women surround a pillar as flowing water casts light and shapes throughout the Palazzo, turning the hotel's lobby into a paradise for the senses. A must-see for art lovers.
Where: Palazzo
Ages: All ages
31. Welcome to Fabulous Las Vegas Sign
No trip to Las Vegas is complete without a stop at this iconic landmark. Located in the median at 5100 Las Vegas Boulevard South, the sign reads 'Welcome to Fabulous Las Vegas, Nevada' on the front and 'Drive Carefully, Come Back Soon' on the back. Designer Betty Willis declined to have her design copyrighted, wishing it to remain public as a gift to the city. As emblematic of the city as the Strip itself, the sign was erected in 1959 and added to the U.S. National Register of Historic Places in 2009.
Where: Las Vegas Boulevard
Ages: All ages
32. Everything Coca-Cola Store
The taste, the memories, the iconic glass bottle?they're all here! The world's largest Coke bottle is outside to welcome visitors to soda heaven right on the Strip. The multilevel Everything Coca-Cola is part retail store and part interactive experience, as shoppers can peruse a vast array of exclusive merchandise and souvenirs or get their photo taken with the beloved Coca-Cola polar bear. While classic Coca-Cola is about as American as it gets, the taste has spread worldwide and become an international phenomenon. Relax and inject some multiculturalism into your trip by sampling Coca-Cola products from all over the world, available here for taste tests.
Where: Everything Coca-Cola Store
Ages: All ages
33. Miracle Mile Shops
With a whopping 1.2 miles of shops, restaurants, and entertainment venues, it would be a miracle NOT to find something for everyone here. The hottest names in retail like Urban Outfitters and Sephora make their home next to specialty shops like Selfie Time and Lush. Since shopping can build up quite the appetite, the Miracle Mile features over 15 restaurants in a wide range of cuisine choices. Go all-American at Ketchup Premium Burger Bar, visit the bayou with Hot & Juicy Crawfish, or relax and watch the game at Blondies Sports Bar & Grill. Craving Italian? Relax at Lombardi's Romagna Mia with a glass of wine and a plate of homemade antipasti. Take in a show after dinner with live entertainment seven days a week. From magic shows to live comedy to burlesque, all ages and preferences will find a show they love.
Where: Planet Hollywood
Ages: All ages
34. Forum Shops
Luxury aficionados will swoon at the self-proclaimed ?Shopping Wonder of the World.? Approximately 160 specialty stores represent the finest names in fashion, technology, cosmetics, art, and more. The highest of the high end like Christian Louboutin, Gucci, Inglot Cosmetics, and Tiffany's all call the Forum Shops home, alongside fine dining at the Palm, Sushi Roku, Carmine's NYC, and more to suit even the most refined palate. The Forum Shops are also home to the Atlantis Aquarium, a 50,000-gallon saltwater extravaganza with over 300 tropical fish. In addition, the hourly Fall of Atlantis animatronic show mixes fire, water, and legend for unbeatable free entertainment.
Where: Caesars Palace
Ages: All ages
35. Le Boulevard
The magic, the romance, and the unrivaled joie de vivre of Paris are yours to discover in this immersive shopping experience. Get the latest from très chic European designer brands or indulge in fine cigars, Eiffel Tower memorabilia, and delicious gourmet treats on a leisurely stroll through Bally's Promenade. Those who enjoy the flavors of French cooking will enjoy fine wines, cheeses, and artisanal chocolate at La Cave, while cosmetics lovers will feel right at home at Pérola. Certain boutiques like Presse and Le Journal are open 24 hours. French-inspired housewares and souvenirs are readily available to take home and bring a touch of Paris anywhere.
Where: Paris
Ages: All ages
36. Grand Canal Shoppes
The Grand Canal Shoppes is an extraordinary mall on the Strip that's Venetian-inspired and absolutely captivating. With over 160 signature stores, and more than a dozen world-class restaurants, you can satisfy that retail itch, while keeping you and your kids fed and happy. Shops include: 7 for All Mankind, Alex and Ani, Armani, Barneys, Bauman Rare Books, BCBG, Hugo Boss, Coach, Jimmy Choo, kate spade and Swarovski. Restaurants include: Wasabi Jane, Tacos N'Ritas, Subway, Delmonico Steakhouse, Cut by Wolfgang Puck and 4 different pizza restaurants.
Where: The Venetian
Ages: All ages
37. Shoppes at Mandalay Place
In truth, the shops at Mandalay Place are geared towards adults, and specifically towards adults who are ready to part with their cash. If this is you, then more power to you and you'll be relieved to know that there are several family-friendly places to eat interspersed between the shops.
Where: Mandalay Bay
Ages: All ages